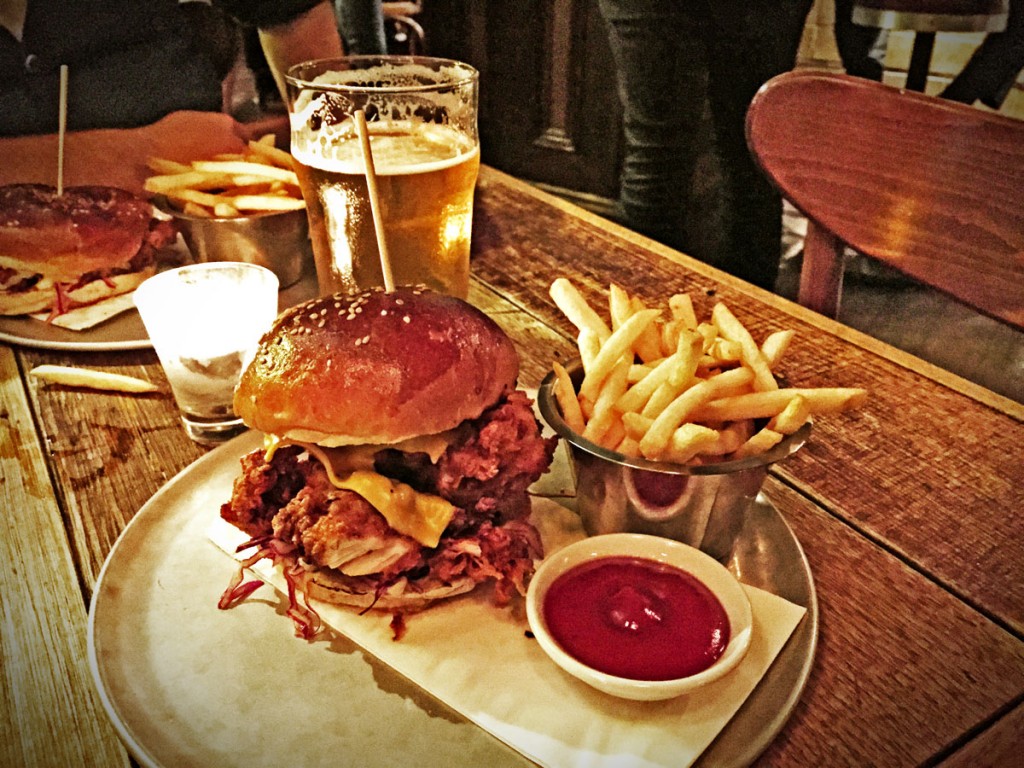 Purveyor: The Local Taphouse, Darlinghurst, NSW, Australia

Menu Item: Fried Chicken Burger
Price: $18 AUD
Squawk: The Local has long been regaled for its ever-changing and always wonderfully varied beer list, but not once have we heard anyone remark about the quality of their food. So it was a bit of a surprise for us to discover a such a good burger here. For starters the chicken itself was beer battered breast meat, the perfect combo of juicy and crispy. We did wonder which of the many beers on their list they used to make such a lovely batter. The perfectly toasted, almost burned, bun appeared to be too thick at first, but turns out it was merely fluffy and squashed down perfectly to fit into our gobs. We loved the artisanal pickles too and wished there were more of them, especially when they're sitting atop a slice of that fake cheese product we love so well. (We love "real" cheese too). Finally, the chipotle mayo was an unexpected delight. This is a great burger and we were very sad when it ended.
Buaawk: We would have enjoyed a few more pickles. Things like Dijon mustard, crispy bacon or a nice Ox Heart tomato slice could have put this one over the top. Fries were good, but not spectacular. All that said, this one is a definite contender for the upcoming Best Burger Awards.
Rating: 9/10 Updated Score: 8/10 See comments for more info.
Bonus: Amazing beer list.